Cotton Candy Treats: An Exploration of Sweet Delights!
Jun 15, 2023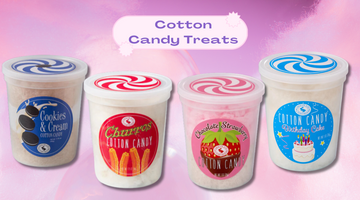 Cotton candy dreams do come true, one bite at a time. Imagine being at a carnival with plenty of joy and the enticing smells of sweet treats. Cotton candy is one of the many delectable delicacies that is a perennial favorite.
Its fluffy texture, eye-catching hues, and melt-in-your-mouth sweetness make it a treat for the senses.   
In this blog, we embark on a journey through the enchanting world of cotton candy treats, from whimsical cotton candy cakes to nostalgic cotton candy bubblegum and even chocolate-infused cotton candy.
Join us as we unravel the secrets and delights of these sugary confections and provide insights into buying the perfect cotton candy for your cravings. 
Cotton Candy Cakes: A Whimsical Twist on Traditional Desserts  
Imagine a cake with cotton candy swirls that appear like a cloud. Cotton candy cakes have swept the dessert industry and added a whimsical twist to customary occasions. The fluffy cotton candy texture and the cake layers' decadence give these pastries a distinctive feel.  
Cotton candy cakes come in various beautiful designs, from vibrant rainbow-colored compositions to delicate pastel patterns. Cotton candy cakes will pique your interest and taste buds, whether you're celebrating a birthday or enjoying a delicious treat. 
Cotton Candy Bubblegum: A Burst of Childhood Nostalgia  
Do you remember when you blew bubbles and had sticky fingers from chewing bubble gum? Now picture that superior experience with an explosion of cotton candy sweetness. Cotton candy bubblegum is a delicious combination of sweetness and nostalgia.  
Also Read: Unveiling unique candy gifts and popcorn treasures! - Alamo City
Cotton candy's distinctive flavor transports you back to happy childhood days at fairs and carnivals.
The flavors develop as you chew, leaving a lasting sweetness in your mouth. Cotton candy bubblegum is a playful take on a classic treat that is a popular choice with candy lovers of all ages and is ideal for saying your sweet tooth. 
Chocolate Cotton Candy: The Perfect Marriage of Sweet and Rich  
Magic happens when two delicious sweets combine. You have chocolate cotton candy, a beautiful marriage of chocolate's silky smoothness with the ethereal sweetness of cotton candy.  
In this delectable treat, which delivers a harmonious fusion of tastes and textures, the richness of the chocolate contrasts well with the delicate and light cotton candy strands.  
Chocolate cotton candy adds richer, decadent flavor to any dessert, whether eaten alone or as a garnish. Enjoy the finest of both worlds when you indulge in this delectable pairing. 
Cotton Candy Jelly Beans: A Bite-Sized Burst of Fun  
Cotton candy jelly beans are a delicious treat if you're in the mood for a bite-sized burst of sugary enjoyment. Every bite of these jelly beans, which are covered in a sweet shell and have a chewy inside, captures the flavor of cotton candy.  
Candy lovers immediately fall in love with them because of their vibrant hues and quirky flavors. They are excellent for snacks but also lend themselves to original use in desserts and party flavors. For an air of joy at your next party, sprinkle them on cupcakes or fill ornamental jars. 
Cotton Candy for Special Occasions: Incorporating Fluffy Delights into Weddings and Events 
Cotton candy will bring a little sweetness and amusement to your special events. The days when cotton candy was only a staple of fairs and carnivals are long gone.
It now adds a lovely surprise and nostalgia to weddings and other occasions, making it a common and distinctive touch. 
Consider a wedding reception where guests are welcomed by a cotton candy station that offers a variety of vivid flavors and hues.
It not only provides an eye-catching treat, but it also activates everyone's inner child, fostering a lively and joyous environment. 
Everything from dessert tables and drink bars to party flavors and decorations can feature cotton candy at the event. It can be the influence to fit the occasion's color scheme or theme, giving it a unique feel. It will make an impression on your visitors, whether with classic flavors like pink and blue, Chocolate Strawberry, or Caramel popcorn. 
Cotton candy is a novel method to engage guests and create an unforgettable corporate event experience. It adds a fun interactive element and serves as a conversation starter to set up a live cotton candy station where visitors can see the sugar-spinning process. 
When it comes to kid's events, cotton candy takes center stage. It fulfills their sweet craving and infuses the event with magic and wonder. Children can marvel at cotton candy spinning right in front of their eyes, building up excitement and expectations. 
Cotton candy may enhance any special occasion, including weddings, birthday parties, baby showers, and other gatherings, and produce priceless memories. Its sweetness, and delectable popcorn flavors make it an adaptable and widespread complement to any event. 
So, consider adding a touch of cotton candy to your next special event and let the sweetness and fun take center stage.
Also Read: Sweet Bliss: A Fun, Unique and Delicious Candy Treat!
Buying Cotton Candy: A Guide to Finding the Perfect Sweet Treat!  
Now that we've explored the wonderful world of cotton candy treats, it's time to satisfy your cravings. There are several options for buying cotton candy, from local candy shops and fairs to the convenience of online stores.  
When purchasing cotton candy, it's essential to ensure its quality and freshness. Look for reputable sellers who specialize in cotton candy and offer various flavors and packaging options. One such trusted source is Alamo City Popcorn Company, an online shop known for its high-quality cotton candy and diverse selection. 
Wrapping up: 
As we conclude our delightful journey through the world of cotton candy treats, we hope we've inspired you to indulge in these sugary delights. Whether you're captivated by the notion of cotton candy cakes, nostalgic for the taste of cotton candy bubblegum, or enticed by the richness of chocolate cotton candy, there's a treat to satisfy every craving.  
Visit our website at alamocitypopcorn.com to explore their range of irresistible cotton candy delights and convenient online shopping. So, embrace the sweetness, and let cotton candy transport you to a world of pure bliss. 
FAQs:  
Q: What is cotton candy made of?  
A: Cotton candy is made by heating and liquefying sugar, then spinning through tiny holes, creating fine strands that solidify in the air. 
Q: Can cotton candy be stored for later consumption?  
A: Cotton candy is best enjoyed immediately after purchase to retain its light and fluffy texture. However, if you need to store it, keep it in a cool, dry place in an airtight container to prevent moisture absorption. 
Q: Are there any dietary concerns related to cotton candy?  
A: Cotton candy is primarily made of sugar and has no significant nutritional value. It should be consumed in moderation as part of a balanced diet. 
Q: How long does cotton candy last?  
A: Cotton candy is best enjoyed within a few days of purchase when it is fresh. However, its shelf life can vary depending on storage conditions and packaging type.