Perfect Popping: 7 Tips for Choosing the Right Popcorn Tin!
Jan 25, 2023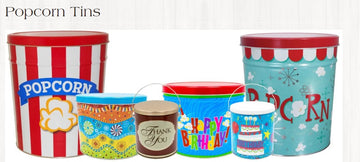 If you're in search of the perfect popcorn tin, we have a few options for you to consider. For those who love to have a lot of popcorn on hand or to share with friends, we recommend the 3.5-gallon tin. If you're looking for something a little more manageable, but still plenty big, the 2-gallon tin might be the right fit. Our personal favorite is the 1-gallon tin, which is great for smaller families or if you want to keep portion sizes in check. No matter which size you choose, you'll have the perfect container for your family's movie night tradition or to give as a gift. 
When choosing a suitable popcorn tin, there are a few things you'll want to keep in mind. 
Here are seven things to keep in mind when choosing the right one: 
Decide on the size of popcorn tin you need.
Do you want a small, medium, or large tin? We have 3.5-gallon popcorn tins, 2 gallons of popcorn tins, and 1 gallon of popcorn tins. One size is perfect for any occasion! When in doubt, choose the enormous container!  
Choose a taste that fits your personality.
We have different popcorn flavors so that you can find the perfect taste for you! From our classic buttery flavor to our Caramel popcorn tins, we have every flavor for everyone. 
Consider the occasion.
Is this a gift for a birthday? Christmas? A holiday? Or just because we have unique edition tins for every occasion! Add them to the cart, and you're ready with everything needed. So when shopping online or even from our local thrift store, we've got what's yours—all in one place. 
Add a personal touch. 
We can personalize your tins with a name, message, or logo. It is a great way to make your gift extra special. You can also order various kinds from Alamocity City Lovers, Classic Lovers, Sports tin, and more. In addition, we have made custom orders for you! 
     5. Get the perfect popcorn tin for any budget.  
We have tins ranging in price from $10-$100. So no matter your budget, we have a tin that will fit your needs! It's one of those blends you can't wait to get home and try out for yourself. They are of fantastic quality with wonderful flavor as well. 
Order early to get the perfect popcorn tin! 
Our tins are very popular and sometimes sell out quickly. Order early to make sure you get the perfect tin for your needs. 
Most importantly, have fun and enjoy your popcorn! 
No matter what tin you choose, we know you'll enjoy the delicious popcorn inside! So sit back, relax, and enjoy the show! 
Enjoy different popcorn tins for other occasions!  
With so many varieties, it takes time to decide what to choose. But with so many different popcorn tins, you can find one that will suit your every need! 
Under 1 Gallon, 2-gallon, and 3.5-gallon popcorn tins, you'll find:  
You can find these tins designed with Military tin, Sports tin, Frozen tin, Spiderman tin, Ironman tin, Choose your favorite tin, Captain America tin, Buzz Lightyear tin, Mickey mouse tin, Coca Cola tin, Marvel Heroes tin, and Candy cane Christmas 1/2 gallon tin where you can choose any three flavors popcorn that can make your day or any occasion.  
1 Gallon and 2 Gallon popcorn tins are great options for:  
Gifts: Popcorn makes a great gift for any occasion! 

 

Snacks: Have a big family? These tins will make sure everyone has enough to eat. 

 
Parties: Perfect for parties or movie nights!

 
3.5-gallon tins are an excellent option for:  
A party 

 

A movie night 

A family gathering
What are the benefits of different-sized popcorn tins?  
Different-sized popcorn tins offer different benefits depending on your needs. For example, a 3.5-gallon tin is great for a party or family gathering, while a 1-gallon tin is perfect for a smaller snack or portion size. No matter what your need is, there is a popcorn tin that will suit you! 
How can Alamocity be your perfect place for your popcorn treat?  
Alamocity is the perfect place for your popcorn treat because it has various flavors. You can find anything from traditional to gourmet popcorn flavors. In addition, the tins are also a great way to show your personality. There are tins for different occasions, interests, and even budgets. So whether you're looking for a gift or a snack, Alamocity has the perfect popcorn tin! 
Need a custom order? No problem! We can make custom tins with your favorite flavors and design. Just contact us and let us know what you need. We would be happy to help you create the perfect popcorn tin for your needs.